About us
Maharaja Tandoori Cuisine in Preston offers a delicious menu of Indian and Halal specialties. We feature two Takeaway Special Budget Packs including everything for 2 to enjoy a delicious Indian meal at home. Enjoy Classic Mains along with Roti, Naan, Pappadums and more. You can also feast on our assortment of Chicken, Lamb, and Beef Treasures, and Seafood Main Courses. All of our recipes are made with the freshest ingredients and authentic herbs and spices; and you will find more than your share of accompaniments to complete any meal.
Try our amazing Naan with lots of delicious dipping sauces to choose from at Maharaja Tandoori Cuisine. For a special treat, don't forget to add some desserts for a perfect ending to a perfect meal.
Order from our online menu tonight for collection or delivery and enjoy something special.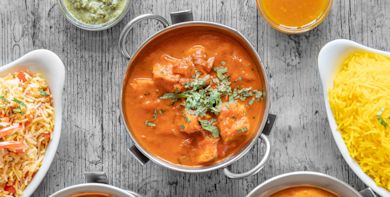 Reviews
Peter
"It doesn't matter that it was a bit late, they were VERY busy that night."
10/11/2019
gary
"awesome as always"
4/11/2019
Richard
"Absolutely delicious!!!!"
1/11/2019
Amith
"Really fine and clean Indian cuisine. I used to be an old customer and then I went elsewhere. Now maharaja is my new fav Indian restaurant. Highly recommended!"
27/10/2019